There is potential in every human being provided they are accepted and included. Anugraham is a team of dedicated professionals who aim to provide mental wellbeing and growth with a focus on inclusion. We work with educational institutions, teachers, parents, adolescents and children. Collaboration between all the units in a child's environment along with supportive professional guidance is vital for progress.
Our Mission
Collaboration between general education teachers and special educators is a win-win situation for all children. Inclusion is not new to Indian Education. The Ancient Gurukul system promoted and sustained students from all strata of the society. The Panchatantras were created to teach those who learnt differently but enthralled one and all. In the current technologically advanced society, a curriculum accessible to all is the answer to many of the problems faced by students. The lessons were the same, but the teaching methods were different. Empowering teachers is a sure way to empower students.
Our Vision
Anugraham seeks to empower teachers by nurturing and providing them with skills to teach the students of the 21st century. Flexibility and pace are what students want and it's critical we adapt to their needs and facilitate lifelong learning. The education sector is undergoing a revolution and it is important that 21st century India gears up to fulfil the Sustainable Development Goal of inclusive education. Promoting Sarva Shiksha Abhiyan, it is our duty to ensure that no child gets left behind and all children, irrespective of their abilities have access to education. It is not a utopian dream but can be achieved through systematic planning, differentiated curricular design and judicious use of available resources.

Director
Subha Chandrashekhar
                                                                                                                                                                 CRR.NO- A25317
A TEDx Speaker, Subha Chandrashekhar is the Founder-Director of 'ANUGRAHAM', an initiative to spread awareness and empathy towards acceptance of students with diverse abilities.
Ms. Chandrashekhar was the HOD, Dept of Mental Health & Inclusion, Delhi Public School Rohini and has over 28 years of experience in the field of inclusive education as a trainer and leader involved in capacity building of Policy makers, School Leaders, General Education teachers, Special Educators and parents.
A registered Rehabilitation Practitioner and Special Educator with the Rehabilitation Council of India, she is a 'Fulbright Distinguished Awards Scholar from Arizona State University and an Americans with Disability Act ADA fellow in inclusive education from the University of Minnesota.
With degrees in both Psychology and Special Education, she has worked as a Counselor with teachers, students and parents, conducting numerous interactive sessions to build Life skills and facilitate mental well-being.
She has conducted numerous training sessions for parents and teachers on parenting young children, adolescents and young adults. She has also extensively worked with children of all ages to help them acquire Life skills, resilience and mechanisms for coping with emotions.
She is also an empaneled Resource Person for Central Board of Secondary Education and  a Consultant for many national organizations including the National Institute for Public Cooperation & Child Development, NIPCCD, National Institute for Empowerment of Persons with Intellectual Disabilities (NIEPID) , National Institute for Empowerment of Persons with Visual Disabilities, (NIEPVD), National Institute for Empowerment of Persons with Multiple Disabilities, (NIEPMD)DOE, Delhi Govt, SGT University, Ramakrishna Mission Vivekananda Educational and Research Institute, Coimbatore. She has also worked for the Samagra Shiksha (Inclusive education) programs of Delhi, Assam, West Bengal and Jharkhand to improve relevance, effectiveness, efficiency, and sustainability of the inclusive education programs at district levels.
In collaboration with the University of Minnesota, she conducts an 8 week online course on inclusive education, 'INCLUSION: THE WAY FORWARD'. 5 batches have completed the course with participants from 11 states and UTs.
She has extensive experience in establishing inclusive strategies and policies related to mental health and well-being at Pre-Primary, Primary, Secondary and Higher Secondary levels to ensure that schools continue to provide education to diverse learners.
She has been the recipient of consecutive grants for projects funded by U.S. Dept. of State's bureau of Educational & cultural Affairs (ECA) and is also currently working on a project in collaboration with NCERT.
She received the  'Jagran Josh Award for Best Initiative for Children with Special Needs' in March 2022. She has also received the "Role Model Teacher Award' from the Delhi Public School Society , the  International School Award from British Council for supporting the integration of international learning in the Curriculum and the "Bharat Nirman Award"  for outstanding contribution in the field of Inclusive and Special Education.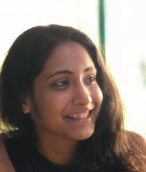 Mahati Chandrashekhar
Armed with a triple major in Psychology, Sociology & English and a Master's degree in Clinical Psychology, Mahati Chandrashekhar has worked with a diverse group of students facing learning disabilities and mental health issues. She is passionate about creating awareness about mental health amongt teachers and parents. She has received training in clinical intervention with special focus on Cognitive Behaviour Therapy (CBT) and other evidence based procedures. She has been actively researching about the role of humour in resilience and therapy in young adults.
Head, Digital & Communication
Renuka Thukral
An edupreneur with experience of over 25 years in teaching, administration and teacher training in eminent schools like DPS, Ramjas. She has conducted multiple conferences on the benefits and applications of experiential learning in a progressive schooling environment for school principals and directors Pan India. In addition, she has presented sessions on engaging and innovating teaching methods, modern-day teaching skills, parenting skills in over 100 prominent schools across India and organizations like Zee Learning and Delhi Arya Pratinidhi Sabha. She is also an advisor for K12 schools at Captain Tesseract which is an early-stage EdTech startup that adds a unique Coding Dimension to the learners. Besides her academic interests, she also fulfills her roles as the Director of her tech consultancy, Creavo Solutions Pvt. Ltd. A certified NLP Counselling Coach and Certified Auditor for ISO 21001:2018 (Management System for Education System), she is a strong believer in the values of empathy, respect towards society and the environment and is sure that every day brings something new to learn.